Rick James sightings in Boston, a wedding in Colorado, and 2 weeks in Sin City…I need some sleep…
Ok, I got lost for a bit…I fell off the proverbial blogging map. It's ok, no one reads this damn thing anyways! So I have some catching up to do…where do I start?
First off I got the chance to see Dave Chappelle perform his stand-up routine in Boston. Yes, Rick James was in Boston! I don't care what anybody says about that guy – he is hilarious. Whether or not he is nuts is up for debate, but I vote for him being funny. Hopefully I will get to see more of his material in the years to come – that is if he doesn't plan a trip back to Africa any time soon!
A group of us also caught the Carlos Mencia show at the Orpheum a few weeks back. To those that had the opportunity to go I say this – midgets scare me!
I don't know if I have mentioned this before, but we found a place to live! We live in Somerville right behind Harvard. I absolutely love the place and its location between all the pertinent squares in the area. The only thing I am suspect about is our neighbors. Apparently we have a reputation of being the party house in a "well-connected" neighborhood. Some of the residents aren't too happy with us. That's just great, we find a place, move in, throw some parties and have a great time, and now we have been singled-out by the Somerville Police Department. Man, I wonder what the jail cells in Somerville look like?
What else – Cheryl turned 30…Happy Birthday Cheryl! Just think, you are old enough to be my mother in some indigenous tribes on the western coast of Mozambique – that is, of course, if Mozambique has a western coastline.
Hmmm, I have been to a number of concerts that I have failed to talk about in the last few months, so let me try and run them down for you. A few Widespread Panic shows, Robert Randolph & The Family Band, Xavier Rudd, Bobby Weir & Ratdog, etc. I know I am missing a ton but that will have to do for now. There are too many to break out individually!
Oh, I almost forgot, I just got back from the Vegoose Music Festival in Las Vegas, NV. Superfly, the promoters behind the NOLA Jazzfest and Bonnaroo, created a Halloween-based music festival that runs over Halloween weekend at Sam Boyd Stadium (and surrounding area) with late night shows at different venues through out the strip each night. I got the opportunity to meet some
amazing artists and catch some great sets from t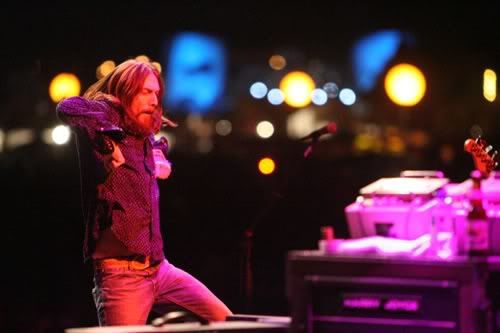 he
Raconteurs, Keller Williams Incident, Rhythm Devils, Phil Lesh & Trey Anastasio, Black Crowes, Yonder Mountain String Band, Tom Petty, Fiona Apple, and Widespread Panic among others. If you attend Vegoose you set yourself up to need another vacation once it is over. If you planned on going full-throttle your schedule would have looked something like this (filled in with the shows I attended):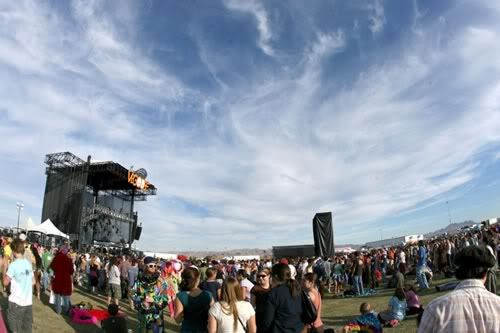 Day #1:
8:00pm – 11:30pm late night show (Dave Matthews & Tim Reynolds)
12:00am – 4:00am late night show #2 (Trey Anastasio & Robert Randolph & The Family Band)
Day #3
12:00pm – 11:30pm Vegoose Music Festival
12:00am – 5:00am late night show (String Cheese Incident)
Needless to say this weekend can put a severe hurting on you. Just look what can happen if you don't pace yourself (notice the change in outfits, hmmm, could this have happened on two different occasions over the weekend?)…nice socks Matt!
Congratulations need to go out my friends Matt and Becky (the two passed out in the above picture) – they got married! They were married in early October in Boulder, CO. The ceremony
was beautiful (yup, I just lost man points for saying that) and the ensuing celebration was unforgettable. I do, however, have one question – what is it about weddings that makes everyone feel the obligation to hook-up? One of the best parts of this entire wedding endeavor was that I got to see friends that I haven't seen in ages. We had fools flying in from all over the globe to see our dear friend fall from grace and join the adult world. The first five minutes were spent catching up and laughing at eac
h other. The next three days were spent checking out the ladies and calling dibs on who got what! Some things just never change. It is funny watching the friends who you keep so close torpedo and pimp one another over in the hopes of getting girl A, B, or C. The best word to describe my friends would be…vultures. They hover over their target until they get the opportunity to strike; their prey doesn't know what hit them until it's too late. Well, it was funny to watch these guys send each other into different pockets of girls in order to stray them away from their
own personal intended target. In one instance my friend Andy told my other friend (Dave) some information about a girl that Dave wanted to get together with – for her own security she will go nameless. Andy bolstered Dave up with tidbits that could help the conversation with said girl go smoothly and hopefully lead to, in Dave's mind, sexual congress. So the ever-confident Dave heads over to said girl and starts talking to her. They extend pleasantries and get more in depth – the ticking of the timer can be heard for miles! Dave starts talking to said girl about her kid and this and that. The problem
with this is said girl doesn't have a kid – and we have detonation! She freaks out and Dave is left wondering what the hell just happened. I love my friends! We spent the entire night in Boulder for the reception/after-party between the Rio for food and drinks, and Red Fish for the Grateful Dead cover band that Matt had secured. I haven't had that much fun in a while. The end of the night found us imitating sardines in the bed of a bouncer's pick-up truck getting chauffeured back to our hotel room – God I love Colorado! (Pictured above: The boys overlooking the ceremony, painting done by Tie-Dye Paul for Matt & Becky, the vows, Jeremy attempting to molest Kuney)
So, I'm still trying to play catch up from my time spent in CO and in NV, enough said!
My latest routine to date sees me heading to Christopher's in Porter Square with friends for a bite to eat and some drinks, and then walking next door to Toad to have a few more drinks and catch some great music. It's a vicious cycle, I know! I'm just trying to spend all the time I can with the people I care about the most before I head to Denver in February.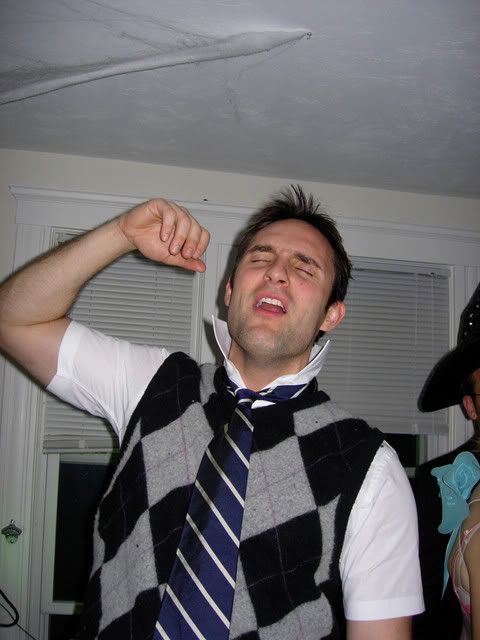 If you have some time to kill and feel like reading a funny blog posted by my friend and roommate, Adam, click this link. He debates the controversial category of "Top Boob." Be warned, this is Adam…
So that about does it for now, looking forward to seeing Gov't Mule, the Black Keys, Ray LaMontagne, Trey Anastasio, Damien Rice, and the one and only Tenacious D! Until then…GO SEE LIVE MUSIC!